Pakket: grub (0.97-64)
Verwijzigingen voor grub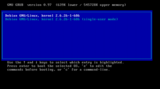 Debian bronnen:
Het bronpakket grub downloaden:
Beheerders:
Vergelijkbare pakketten:
GRand Unified Bootloader (dummy package)
This is a dummy transitional package to handle upgrades.
Note: This package depends on `grub-pc', which upgrades your system to GRUB 2. If you want to continue using GRUB Legacy, it is provided in the `grub-legacy' package.
Pakketten die grub bieden:
GRand Unified Bootloader (Legacy version)
Andere aan grub gerelateerde pakketten