Pakket: kthesaurus (1:2.2.1-4)
Verwijzigingen voor kthesaurus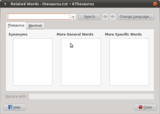 Debian bronnen:
Het bronpakket koffice downloaden:
Beheerders:
Externe bronnen:
Vergelijkbare pakketten:
thesaurus for the KDE Office Suite
KThesaurus lists words related to a given term and offers a user interface to WordNet, a powerful lexical reference system. By default, only the English language is supported.
This package is part of the KDE Office Suite.
Andere aan kthesaurus gerelateerde pakketten