Package: nethack-console (3.4.3-14)
Links for nethack-console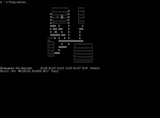 Debian Resources:
Download Source Package nethack:
Maintainers:
External Resources:
Similar packages:
gioco di esplorazione di sotterranei - interfaccia testuale
Nethack è un gioco d'avventura meravigliosamente sciocco eppur piuttosto avvincente, in stile Dungeons and Dragons. Si vestono i panni di un personaggio di una tra molte classi (ad esempio mago, ranger o turista), combattendo, durante la discesa, per recuperare l'Amuleto di Yendor (provate a dirLO al contrario!) per la propria divinità. Sulla strada si possono incontrare uno o due meccanici quantistici, o magari re Artù o, se si è VERAMENTE fortunati, l'affamatissimo scarafaggio bestia di Traal (Ravenous Bugblatter Beast of Traal).
Si deve installare un frontend per NetHack se si vuole usare il gioco. Ognuno include la versione originale senza grafica e possono essere tutti installati contemporaneamente:

 - nethack-console: senza grafica, soltanto NetHack semplice;
 - nethack-x11    : versione grafica originale basata su X11/Athena;
 - nethack-lisp   : versione Lisp con finestre.

Questo pacchetto fornisce la versione semplice per console di NetHack.
Other Packages Related to nethack-console
Download nethack-console
Download for all available architectures

| Architecture | Package Size | Installed Size | Files |
| --- | --- | --- | --- |
| amd64 | 936.3 kB | 1,777.0 kB | [list of files] |
| armel | 877.3 kB | 1,702.0 kB | [list of files] |
| armhf | 817.2 kB | 1,318.0 kB | [list of files] |
| i386 | 877.4 kB | 1,799.0 kB | [list of files] |
| ia64 | 1,502.3 kB | 4,381.0 kB | [list of files] |
| kfreebsd-amd64 | 936.1 kB | 1,784.0 kB | [list of files] |
| kfreebsd-i386 | 877.1 kB | 1,742.0 kB | [list of files] |
| mips | 871.8 kB | 1,944.0 kB | [list of files] |
| mipsel | 877.4 kB | 1,944.0 kB | [list of files] |
| powerpc | 907.0 kB | 1,874.0 kB | [list of files] |
| s390 | 930.4 kB | 1,878.0 kB | [list of files] |
| s390x | 978.0 kB | 2,119.0 kB | [list of files] |
| sparc | 923.8 kB | 1,928.0 kB | [list of files] |