Package: glam2 (1064-1)
Links for glam2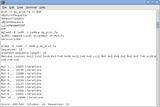 Debian Resources:
Download Source Package glam2:
Maintainers:
External Resources:
Similar packages:
motivi proteici con interruzioni da sequenze non allineate
GLAM2 è un pacchetto software per trovare motivi all'interno di sequenze, tipicamente sequenze amminoacidiche o nucleotidiche. Un motivo è un modello di sequenze che si ripete: esempi tipici sono i TATA box o il motivo di prenilazione CAAX. La maggiore innovazione portata da GLAM2 è che permette di avere inserzioni e delezioni all'interno dei motivi.
Questo pacchetto include i seguenti programmi:

 glam2:       scopre motivi condivisi da un insieme di sequenze;
 glam2scan:   trova corrispondenze, all'interno di un database di
              sequenze, con un motivo scoperto da glam2;
 glam2format: converte motivi glam2 in formati di allineamento standard;
 glam2mask:   maschera motivi glam2 dalle sequenze, così che possano
              essere trovati motivi più deboli;
 glam2-purge: rimuove elementi altamente simili da un insieme di sequenze.

In questo pacchetto è stato abilitato l'algoritmo FFT (Fast Fourier Transform) per glam2.
Se si usa GLAM2, si citi: MC Frith, NFW Saunders, B Kobe, TL Bailey (2008) Discovering sequence motifs with arbitrary insertions and deletions, PLoS Computational Biology (in stampa).
Other Packages Related to glam2
dep:

libc6 (>= 2.7-1)

libreria C GNU embedded: librerie condivise
also a virtual package provided by libc6-udeb

dep:

libfftw3-3

library for computing Fast Fourier Transforms
Download glam2
Download for all available architectures

| Architecture | Package Size | Installed Size | Files |
| --- | --- | --- | --- |
| amd64 | 251.9 kB | 548.0 kB | [list of files] |