Package: nautilus-sendto (3.6.0-1)
Links for nautilus-sendto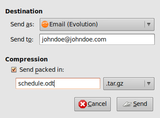 Debian Resources:
Maintainers:
Similar packages:
Experimental package
Warning: This package is from the experimental distribution. That means it is likely unstable or buggy, and it may even cause data loss. Please be sure to consult the changelog and other possible documentation before using it.
integra Evolution e Pidgin nel gestore di file Nautilus
Il plugin Nautilus Send To fornisce al gestore di file Nautilus una voce del menu contestuale per inviare velocemente file ad account nella rubrica della posta di Evolution, a contatti in un elenco per messaggistica istantanea di Pidgin o Gajim, tramite Icedove o Claws Mail.
Nautilus Send To permette anche di comprimere i file (tar.bz2, tar.gz o zip) prima dell'invio.
Other Packages Related to nautilus-sendto
sug:

evolution (>= 2.28)

suite di groupware che comprende un client di posta e un'agenda

or icedove

client di posta e news con supporto per RSS e filtro per posta indesiderata integrato

or claws-mail

programma di posta GTK2 veloce, leggero e amichevole

sug:

python-dbus

semplice sistema per messaggi tra processi (interfaccia Python)
Download nautilus-sendto
Download for all available architectures

| Architecture | Package Size | Installed Size | Files |
| --- | --- | --- | --- |
| alpha (unofficial port) | 149.9 kB | 1,420.0 kB | [list of files] |
| amd64 | 149.6 kB | 1,382.0 kB | [list of files] |
| armel | 146.3 kB | 1,347.0 kB | [list of files] |
| armhf | 145.7 kB | 1,339.0 kB | [list of files] |
| hurd-i386 | 148.6 kB | 1,367.0 kB | [list of files] |
| i386 | 148.6 kB | 1,367.0 kB | [list of files] |
| ia64 | 155.6 kB | 1,447.0 kB | [list of files] |
| kfreebsd-amd64 | 149.5 kB | 777.0 kB | [list of files] |
| kfreebsd-i386 | 148.6 kB | 762.0 kB | [list of files] |
| mips | 145.3 kB | 1,366.0 kB | [list of files] |
| mipsel | 145.9 kB | 1,366.0 kB | [list of files] |
| powerpc | 146.2 kB | 1,367.0 kB | [list of files] |
| s390 | 150.2 kB | 1,370.0 kB | [list of files] |
| s390x | 149.8 kB | 1,397.0 kB | [list of files] |
| sparc | 143.8 kB | 1,362.0 kB | [list of files] |