Package: smb4k (0.10.7-1 and others)
Links for smb4k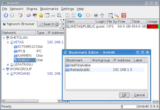 Debian Resources:
Download Source Package smb4k:
Maintainers:
External Resources:
Similar packages:
A Samba (SMB) share advanced browser for KDE
Smb4K is a SMB (Windows) share browser for KDE. It uses the Samba software suite to access the SMB shares of the local network neighborhood. Its purpose is to provide a program that's easy to use and has as many features as possible.
Other Packages Related to smb4k
Download smb4k
Download for all available architectures

| Architecture | Version | Package Size | Installed Size | Files |
| --- | --- | --- | --- | --- |
| amd64 | 0.10.7-1+b1 | 2,174.1 kB | 4,548.0 kB | [list of files] |
| armel | 0.10.7-1+b1 | 2,142.8 kB | 4,384.0 kB | [list of files] |
| i386 | 0.10.7-1+b1 | 2,160.8 kB | 4,480.0 kB | [list of files] |
| ia64 | 0.10.7-1+b1 | 2,446.0 kB | 6,644.0 kB | [list of files] |
| kfreebsd-amd64 | 0.10.7-1+b1 | 2,415.0 kB | 5,198.0 kB | [list of files] |
| kfreebsd-i386 | 0.10.7-1+b1 | 2,410.6 kB | 5,212.0 kB | [list of files] |
| mips | 0.10.7-1+b1 | 2,136.6 kB | 5,024.0 kB | [list of files] |
| mipsel | 0.10.7-1+b1 | 2,117.3 kB | 5,024.0 kB | [list of files] |
| powerpc | 0.10.7-1+b1 | 2,168.9 kB | 4,528.0 kB | [list of files] |
| s390 | 0.10.7-1+b1 | 2,148.6 kB | 4,724.0 kB | [list of files] |
| sparc | 0.10.7-1+b1 | 2,208.2 kB | 4,492.0 kB | [list of files] |