Paquet : junior-arcade (1.20)
Liens pour junior-arcade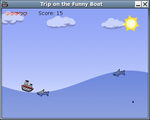 Ressources Debian :
Télécharger le paquet source debian-junior :
Responsables :
Paquets similaires :
Debian Jr. arcade games
This metapackage will install arcade games suitable, in the opinion of the contributors to the Debian Jr. project, for children of all ages. Mastering most of these games requires dexterity and cognitive skills usually developed only in the older children (around ages 5 to 8). But the youngest children may enjoy watching older players, or just poking randomly at the controls, depending on the game.
Autres paquets associés à junior-arcade
sug:

anagramarama

Paquet indisponible
Télécharger junior-arcade
Télécharger pour toutes les architectures proposées

| Architecture | Taille du paquet | Espace occupé une fois installé | Fichiers |
| --- | --- | --- | --- |
| all | 5,3 ko | 68,0 ko | [liste des fichiers] |