Paquet : ftp.app (0.3-1)
Liens pour ftp.app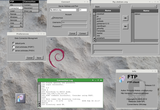 Ressources Debian :
Télécharger le paquet source ftp.app :
Responsables :
Ressources externes :
Paquets similaires :
File transfer protocol application for GNUstep
This is a file transfer application (RFC 765) featuring a compact and easy interface. As most applications in GAP it tries to work on both GNUstep and MacOS X and retain the utmost possible similarity among the two version to ease working in both environments.
FTP supports different port arbitration modes: "default", standard "PORT" (also known as active) and standard "PASV" (also known as passive).
Autres paquets associés à ftp.app
Télécharger ftp.app
Télécharger pour toutes les architectures proposées

| Architecture | Taille du paquet | Espace occupé une fois installé | Fichiers |
| --- | --- | --- | --- |
| kfreebsd-amd64 | 64,6 ko | 182,0 ko | [liste des fichiers] |