Paquet : bibletime (2.9.1-2)
Liens pour bibletime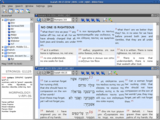 Ressources Debian :
Télécharger le paquet source bibletime :
Responsables :
Ressources externes :
Paquets similaires :
bible study tool for Qt
BibleTime is a free and easy to use bible study tool. It uses the Qt and SWORD software libraries. BibleTime provides easy handling of digitized texts (Bibles, commentaries and lexicons) and powerful features to work with these texts (search in texts, write own notes, save, print etc.) in the SWORD module format.
Autres paquets associés à bibletime
Télécharger bibletime
Télécharger pour toutes les architectures proposées

| Architecture | Taille du paquet | Espace occupé une fois installé | Fichiers |
| --- | --- | --- | --- |
| ia64 | 1 174,6 ko | 4 576,0 ko | [liste des fichiers] |