[ squeeze ]
Paquet : octave3.2 (3.2.4-8)
Liens pour octave3.2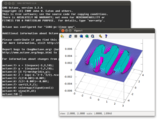 Ressources Debian :
Télécharger le paquet source octave3.2 :
Responsables :
Ressources externes :
Paquets similaires :
GNU Octave language for numerical computations (3.2 branch)
Octave is a (mostly Matlab (R) compatible) high-level language, primarily intended for numerical computations. It provides a convenient command-line interface for solving linear and nonlinear problems numerically.
Octave uses some of the best and most respected numerical libraries as balgen, dassl, eispack, fftpack, lapack, linpack, minpack, odepack, ranlib, slatec-fn and villad. Octave can be dynamically extended with user-supplied C++ files.
Autres paquets associés à octave3.2
rec:

gnuplot

A command-line driven interactive plotting program

rec:

libatlas3gf-base

Automatically Tuned Linear Algebra Software, generic shared
Télécharger octave3.2
Télécharger pour toutes les architectures proposées

| Architecture | Taille du paquet | Espace occupé une fois installé | Fichiers |
| --- | --- | --- | --- |
| amd64 | 9 919,0 ko | 30 988,0 ko | [liste des fichiers] |