Paketti: eficas (6.4.0-1-1.1)
Links for eficas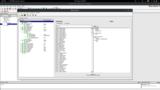 Debian-palvelut:
Imuroi lähdekoodipaketti eficas:
Ylläpitäjät:
External Resources:
Samankaltaisia paketteja:
Graphical editor for Code Aster command files
This package provides an application to help the creation of Code Aster command files. Thanks to this graphical user interface, a user can intuitively create a Aster command file without knowing the syntax.
Code Aster is all-purpose Finite Element Method (FEM) simulation software for structural analysis.
Muut pakettiin eficas liittyvät paketit
Imuroi eficas
Imurointi kaikille saataville arkkitehtuureille

| Arkkitehtuuri | Paketin koko | Koko asennettuna | Tiedostot |
| --- | --- | --- | --- |
| all | 2,037.2 kt | 12,317.0 kt | [tiedostoluettelo] |