Paketti: mscgen (0.20-2)
Links for mscgen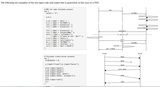 Debian-palvelut:
Imuroi lähdekoodipaketti mscgen:
Ylläpitäjä:
External Resources:
Samankaltaisia paketteja:
Message Sequence Chart (MSC) generator
mscgen is a small program that parses Message Sequence Chart descriptions and produces PNG, SVG, EPS or server side image maps (ismaps) as the output. Message Sequence Charts (MSCs) are a way of representing entities and interactions over some time period and are often used in combination with SDL. MSCs are popular in Telecoms to specify how protocols operate.
mscgen can be used to create in-line MSC-charts in documentations parsed by doxygen. Extensions also exists for Python's Sphinx and mediawiki that can use mscgen.
Muut pakettiin mscgen liittyvät paketit
enh:

doxygen

Documentation system for C, C++, Java, Python and other languages
Imuroi mscgen
Imurointi kaikille saataville arkkitehtuureille

| Arkkitehtuuri | Paketin koko | Koko asennettuna | Tiedostot |
| --- | --- | --- | --- |
| s390 | 53.2 kt | 140.0 kt | [tiedostoluettelo] |