Paketti: gbsplay (0.0.91-1)
Links for gbsplay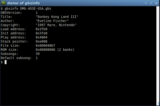 Debian-palvelut:
Imuroi lähdekoodipaketti gbsplay:
Ylläpitäjät:
Samankaltaisia paketteja:
A Gameboy sound player
This program emulates the sound hardware of the Nintendo Gameboy. It is able to play the sounds from a Gameboy module dump (.GBS format) over /dev/dsp. Also included is the gbsinfo tool which displays information about a .GBS file.
Muut pakettiin gbsplay liittyvät paketit
dep:

libaudio2

Network Audio System - shared libraries

dep:

libc6 (>= 2.7-1)

Sulautettu GNU C -kirjasto: jaetut kirjastot
myös näennäispaketti, jonka toteuttaa libc6-udeb
Imuroi gbsplay
Imurointi kaikille saataville arkkitehtuureille

| Arkkitehtuuri | Paketin koko | Koko asennettuna | Tiedostot |
| --- | --- | --- | --- |
| powerpc | 58.2 kt | 224.0 kt | [tiedostoluettelo] |