Paketti: tzwatch (1.4.4-9)
Links for tzwatch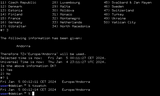 Debian-palvelut:
Imuroi lähdekoodipaketti gworldclock:
Ylläpitäjä:
Samankaltaisia paketteja:
Displays time and date in specified time zones on console
This shell script displays the time and date of time zones specified by the user. The time zones may be entered by hand in TZ format or chosen from a list prepared from /usr/share/zoneinfo/zone.tab. The zone list is kept in a format consistent with the GTK+ application gworldclock.
Muut pakettiin tzwatch liittyvät paketit
sug:

gworldclock

Displays time and date in specified time zones

sug:

twclock

World clock for ham radio operators
Imuroi tzwatch
Imurointi kaikille saataville arkkitehtuureille

| Arkkitehtuuri | Paketin koko | Koko asennettuna | Tiedostot |
| --- | --- | --- | --- |
| all | 13.1 kt | 68.0 kt | [tiedostoluettelo] |