Paketti: lxmusic (0.4.4+git20100802-3)
Links for lxmusic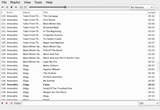 Debian-palvelut:
Imuroi lähdekoodipaketti lxmusic:
Ylläpitäjä:
External Resources:
Samankaltaisia paketteja:
minimalist music player for LXDE
This is based on xmms2, which is lightweight and has server/client design. The user interface is quite simple, clean, and intuitive. At first glance, it looks similar to one of the famous players on Windows - foobar 2000.
Muut pakettiin lxmusic liittyvät paketit
Imuroi lxmusic
Imurointi kaikille saataville arkkitehtuureille

| Arkkitehtuuri | Paketin koko | Koko asennettuna | Tiedostot |
| --- | --- | --- | --- |
| armhf | 109.8 kt | 797.0 kt | [tiedostoluettelo] |