Paketti: palapeli (4:4.8.4-3)
Links for palapeli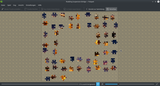 Debian-palvelut:
Imuroi lähdekoodipaketti kdegames:
Ylläpitäjät:
External Resources:
Samankaltaisia paketteja:
jigsaw puzzle game
Palapeli is a jigsaw puzzle game. Unlike other games in that genre, you are not limited to aligning pieces on imaginary grids. The pieces are freely moveable.
Palapeli is the Finnish word for jigsaw puzzle.
This package is part of the KDE games module.
Muut pakettiin palapeli liittyvät paketit
rec:

qhull-bin

calculate convex hulls and related structures (utilities)
Imuroi palapeli
Imurointi kaikille saataville arkkitehtuureille

| Arkkitehtuuri | Paketin koko | Koko asennettuna | Tiedostot |
| --- | --- | --- | --- |
| armel | 239.5 kt | 885.0 kt | [tiedostoluettelo] |