Paketti: vor (0.5.5-2) [contrib]
Links for vor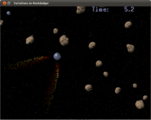 Debian-palvelut:
Imuroi lähdekoodipaketti vor:
Ylläpitäjät:
External Resources:
Samankaltaisia paketteja:
fast-pace, difficult and addictive rocks dodging game
This is a fairly hard game, intended to be a quickie game for when you want to kill a few spare minutes. The most important thing is to tap the keys very gently! Overcontrolling is the leading cause of death among new rockdodgers!
Muut pakettiin vor liittyvät paketit
Imuroi vor
Imurointi kaikille saataville arkkitehtuureille

| Arkkitehtuuri | Paketin koko | Koko asennettuna | Tiedostot |
| --- | --- | --- | --- |
| amd64 | 184.6 kt | 452.0 kt | [tiedostoluettelo] |