Paketti: phpsysinfo (3.0~rc6-1.1)
Links for phpsysinfo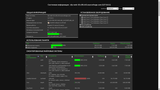 Debian-palvelut:
Imuroi lähdekoodipaketti phpsysinfo:
Ylläpitäjät:
External Resources:
Samankaltaisia paketteja:
PHP based host information
phpSysInfo is a PHP script that displays information about the host being accessed.
It displays informations on the system like kernel version, uptime, network, disk and memory usage, informations on CPU and model, attached IDE and SCSI devices and PCI cards and lm-sensors output on architectures supporting it.
It has support for multiple languages and themes.
Muut pakettiin phpsysinfo liittyvät paketit
dep:

apache2

Apache HTTP Server metapackage
myös näennäispaketti, jonka toteuttaa apache2-mpm-event, apache2-mpm-itk, apache2-mpm-prefork, apache2-mpm-worker

tai httpd

näennäispaketti, jonka toteuttaa aolserver4-core, aolserver4-daemon, apache2-mpm-event, apache2-mpm-itk, apache2-mpm-prefork, apache2-mpm-worker, boa, bozohttpd, cherokee, dhttpd, ebhttpd, lighttpd, mathopd, micro-httpd, mini-httpd, monkey, nginx, ocsigen, thttpd, tntnet, webfs, yaws

dep:

php5

server-side, HTML-embedded scripting language (metapackage)
sug:

hddtemp

hard drive temperature monitoring utility

sug:

lm-sensors

Apuohjelma lämpötilan, jännitteen ja tuulettimien seurantaan
Imuroi phpsysinfo
Imurointi kaikille saataville arkkitehtuureille

| Arkkitehtuuri | Paketin koko | Koko asennettuna | Tiedostot |
| --- | --- | --- | --- |
| all | 199.1 kt | 912.0 kt | [tiedostoluettelo] |