Paketti: gtk2.0-examples (2.20.1-2)
Links for gtk2.0-examples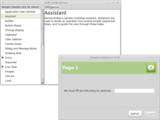 Debian-palvelut:
Imuroi lähdekoodipaketti gtk+2.0:
Ylläpitäjät:
External Resources:
Samankaltaisia paketteja:
Examples files for the GTK+ 2.0
The GTK+ is a multi-platform toolkit for creating graphical user interfaces. Offering a complete set of widgets, the GTK+ is suitable for projects ranging from small one-off tools to complete application suites.
This package contains the examples files and a demonstration program for the GTK+-2.0.
Muut pakettiin gtk2.0-examples liittyvät paketit
Imuroi gtk2.0-examples
Imurointi kaikille saataville arkkitehtuureille

| Arkkitehtuuri | Paketin koko | Koko asennettuna | Tiedostot |
| --- | --- | --- | --- |
| powerpc | 994.2 kt | 1,976.0 kt | [tiedostoluettelo] |