Paketti: xshisen (1:1.51-3.1)
Links for xshisen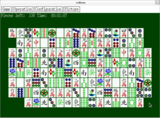 Debian-palvelut:
Imuroi lähdekoodipaketti xshisen:
Ylläpitäjä:
External Resources:
Samankaltaisia paketteja:
Shisen-sho puzzle game for X11
XShisen is a puzzle game for X11. Similar to the famous "Shang-hai", your objective is to remove all the pieces on the board.
This game allows you to use either "original" xshisen images, or - at your choice - images from kshisen.
Muut pakettiin xshisen liittyvät paketit
Imuroi xshisen
Imurointi kaikille saataville arkkitehtuureille

| Arkkitehtuuri | Paketin koko | Koko asennettuna | Tiedostot |
| --- | --- | --- | --- |
| mips | 65.6 kt | 556.0 kt | [tiedostoluettelo] |