Paketti: roundup (1.4.15-3)
Links for roundup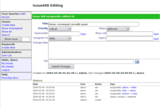 Debian-palvelut:
Imuroi lähdekoodipaketti roundup:
Ylläpitäjä:
External Resources:
Samankaltaisia paketteja:
an issue-tracking system
a simple-to-use and -install issue-tracking system with command-line, web and e-mail interfaces. It is based on the winning design from Ka-Ping Yee in the Software Carpentry "Track" design competition.
If you install one or more of the suggested database interface packages, you will be able to store tracker data in the corresponding database.
Muut pakettiin roundup liittyvät paketit
dep:

adduser

Lisää ja poista käyttäjiä ja ryhmiä

dep:

python

interactive high-level object-oriented language (default version)

dep:

python-support (>= 0.90.0)

automaattinen uudelleenkäännöstuki Python-moduuleille
Imuroi roundup
Imurointi kaikille saataville arkkitehtuureille

| Arkkitehtuuri | Paketin koko | Koko asennettuna | Tiedostot |
| --- | --- | --- | --- |
| all | 1,332.4 kt | 4,448.0 kt | [tiedostoluettelo] |