Paketti: modemmanager (0.4+git.20100624t180933.6e79d15-2)
Links for modemmanager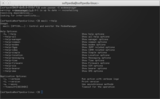 Debian-palvelut:
Imuroi lähdekoodipaketti modemmanager:
Ylläpitäjät:
Samankaltaisia paketteja:
D-Bus service for managing modems
Provides a D-Bus interface to communicate with mobile broadband (GSM, CDMA, UMTS, ...) cards. Implements a loadable plugin interface to add work-arounds for non standard devices. Also provides patches to use networkmanager (and the applet) with modem manager.
Git Repository: http://cgit.freedesktop.org/ModemManager/ModemManager/
Muut pakettiin modemmanager liittyvät paketit
rec:

usb-modeswitch

mode switching tool for controlling "flip flop" USB devices
Imuroi modemmanager
Imurointi kaikille saataville arkkitehtuureille

| Arkkitehtuuri | Paketin koko | Koko asennettuna | Tiedostot |
| --- | --- | --- | --- |
| mips | 188.5 kt | 888.0 kt | [tiedostoluettelo] |