Paketti: smb4k (0.10.7-1 ja muut)
Links for smb4k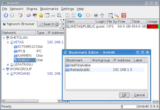 Debian-palvelut:
Imuroi lähdekoodipaketti smb4k:
Ylläpitäjät:
External Resources:
Samankaltaisia paketteja:
A Samba (SMB) share advanced browser for KDE
Smb4K is a SMB (Windows) share browser for KDE. It uses the Samba software suite to access the SMB shares of the local network neighborhood. Its purpose is to provide a program that's easy to use and has as many features as possible.
Muut pakettiin smb4k liittyvät paketit
Imuroi smb4k
Imurointi kaikille saataville arkkitehtuureille

| Arkkitehtuuri | Versio | Paketin koko | Koko asennettuna | Tiedostot |
| --- | --- | --- | --- | --- |
| kfreebsd-i386 | 0.10.7-1+b1 | 2,410.6 kt | 5,212.0 kt | [tiedostoluettelo] |