Paketti: librecad (2.0.0~rc2+nolibs-1)
Links for librecad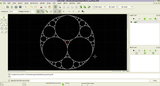 Debian-palvelut:
Imuroi lähdekoodipaketti librecad:
Ylläpitäjät:
External Resources:
Samankaltaisia paketteja:
Kokeellinen paketti
Varoitus: Tämä paketti on kokeellisesta jakelusta. Tämä tarkoittaa, että se on luultavasti epävakaa tai buginen, ja voi aiheuttaa jopa tiedonhäviötä. Kannattaa ehdottomasti tutustua muutoslokiin ja muihin mahdollisiin ohjeisiin ennen käyttöönottoa.
Computer-aided design (CAD) system
LibreCAD is an application for computer aided design (CAD) in two dimensions (2D). With LibreCAD you can create technical drawings such as plans for buildings, interiors, mechanical parts or schematics and diagrams.
Muut pakettiin librecad liittyvät paketit
Imuroi librecad
Imurointi kaikille saataville arkkitehtuureille

| Arkkitehtuuri | Paketin koko | Koko asennettuna | Tiedostot |
| --- | --- | --- | --- |
| armhf | 1,770.1 kt | 4,238.0 kt | [tiedostoluettelo] |