Paket: weechat (0.3.2-1+squeeze1)
Links für weechat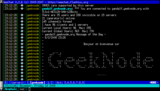 Debian-Ressourcen:
Quellcode-Paket weechat herunterladen:
Betreuer:
Externe Ressourcen:
Ähnliche Pakete:
Fast, light and extensible chat client
WeeChat (Wee Enhanced Environment for Chat) is a fast and light chat client for many operating systems. Everything can be done with a keyboard. It is customizable and extensible with plugins/scripts, and includes:

 - nicklist
 - smart hotlist
 - infobar with highlight notification
 - horizontal and vertical split
 - double charset support (decode/encode)
 - FIFO pipe for remote control
 - and much more!

Andere Pakete mit Bezug zu weechat
dep:

weechat-curses (>= 0.3.2-1+squeeze1)

Fast, light and extensible chat client - console client
weechat herunterladen
Download für alle verfügbaren Architekturen

| Architektur | Paketgröße | Größe (installiert) | Dateien |
| --- | --- | --- | --- |
| all | 21,5 kB | 52,0 kB | [Liste der Dateien] |