Package: compiz-kde (0.9.2.1+git20110226.f059fae9-4)
Links for compiz-kde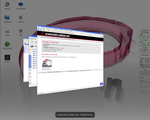 Debian Resources:
Download Source Package compiz:
Maintainers:
External Resources:
Similar packages:
Experimental package
Warning: This package is from the experimental distribution. That means it is likely unstable or buggy, and it may even cause data loss. Please be sure to consult the changelog and other possible documentation before using it.
OpenGL Fenster- und Compositingmanager - KDE Fensterdekorateur
Compiz bringt eine Vielzahl visueller Effekte auf die Arbeitsfläche, um die tägliche Arbeit zu vereinfachen und intuitiver zu gestalten. Außerdem wird die Arbeitsfläche zugänglicher für BenutzerInnen mit speziellen Anforderungen.
Dieses Paket enthält einen Fensterdekorateur, der KDE nutzt, um das Aussehen und Verhalten des Standard-KDE-Fenstermanager nachzuempfinden.
Other Packages Related to compiz-kde
dep:

compiz-core (= 0.9.2.1+git20110226.f059fae9-4)

OpenGL-Kompositions- und Fenstermanager

dep:

compiz-plugins (= 0.9.2.1+git20110226.f059fae9-4)

»Compositing« OpenGL-Fenstermanager - Erweiterungen

dep:

compizconfig-backend-kconfig4

Package not available

dep:

kdebase-runtime

Übergangspaket der KDE-Laufzeitkomponenten

dep:

libboost-serialization1.42.0 (>= 1.42.0-1)

Package not available

dep:

libc6.1 (>= 2.2)

Die »Embedded GNU C Library«: Laufzeitbibliotheken
also a virtual package provided by libc6.1-udeb

dep:

libdecoration0

Fensterdekorations-Bibliothek für Compiz

dep:

libgcc1 (>= 1:4.1.1)

GCC Support-Bibliothek

dep:

libglib2.0-0 (>= 2.12.0)

GLib - Bibliothek von C-Routinen

dep:

libglibmm-2.4-1c2a (>= 2.24.0)

C++ Wrapper für das GLib Toolkit (shared libraries)

dep:

libice6 (>= 1:1.0.0)

X11-Inter-Client-Exchange-Bibliothek

dep:

libkdecorations4 (>= 4:4.3.4)

Bibliothek, verwendet von den Dekorationen des KDE-Fenstermanagers

dep:

libkdecore5 (>= 4:4.4.0)

Hauptbibliothek der KDE-Plattform

dep:

libkdeui5 (>= 4:4.3.4)

KDE Platform User Interface Library

dep:

libplasma3 (>= 4:4.4.4-2~)

Plasma Library for the KDE Platform

dep:

libqt4-dbus (>= 4:4.5.3)

Qt-4-Modul für das D-Bus-Protokoll

dep:

libqt4-svg (>= 4:4.5.3)

Qt-4-SVG-Modul

dep:

libqtcore4 (>= 4:4.6.1)

Qt-4-Kernmodul

dep:

libqtgui4 (>= 4:4.5.3)

Qt4-Modul für grafische Benutzeroberfläche

dep:

libsigc++-2.0-0c2a (>= 2.0.2)

Typsicheres Signal-Rahmenwerk für C++ - Laufzeitdateien

dep:

libsm6

X11-Biblitothek für Sitzungsverwaltung

dep:

libstartup-notification0 (>= 0.10)

Bibliothek zur Programmstart-Benachrichtigung (Laufzeit-Bibliothek)

dep:

libstdc++6 (>= 4.1.1)

GNU-Implementierung der Standard-C++-Bibliothek (Version 3)

dep:

libunwind7

Bibliothek zur Ermittlung der Aufrufkette eines Programms zur Laufzeit

dep:

libx11-6

Clientseitige X11-Bibliothek

dep:

libx11-xcb1

Xlib/XCB-Schnittstellenbibliothek

dep:

libxcb1

X-C-Anbindung

dep:

libxcomposite1 (>= 1:0.3-1)

Bibliothek für die X11-Composite-Erweiterung

dep:

libxdamage1 (>= 1:1.1)

X11-Erweiterungsbibliothek für beschädigte Bereiche

dep:

libxext6

X11-Bibliothek für verschiedene Erweiterungen

dep:

libxfixes3 (>= 1:4.0.1)

»fixes«-Erweiterungsbibliothek für X11

dep:

libxinerama1

X11-Erweiterungsbibliothek Xinerama

dep:

libxml2 (>= 2.6.27)

GNOME XML-Bibliothek

dep:

libxrandr2

Bibliothek für die X-Erweiterung RandR

dep:

libxrender1

X-Rendering-Erweiterung Clientbibliothek

dep:

libxslt1.1 (>= 1.1.25)

Bibliothek für die Verarbeitung von XSLT 1.0 - Laufzeitbibliothek
Download compiz-kde
Download for all available architectures

| Architecture | Package Size | Installed Size | Files |
| --- | --- | --- | --- |
| ia64 | 132.4 kB | 544.0 kB | [list of files] |