Package: diffpdf (1.1.3-1)
Links for diffpdf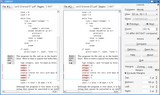 Debian Resources:
Download Source Package diffpdf:
Maintainer:
External Resources:
Similar packages:
sammenlign to PDF-filer tekstmæssigt eller visuelt
DiffPDF bruges til at sammenligne to PDF-filer. Som standard er sammenligningen på tekst på hver sidepar, men sammen sammenligning af udseendet for sider er også understøttet (for eksempel hvis et diagram ændres eller et afsnit får nyt format). Det er også muligt at sammenligne specifikke sider eller sideintervaller. For eksempel hvis der er to versioner af en PDF-fil, en med siderne 1-12 og den anden med siderne 1-13 på grund af en ekstra tilføjet side 4, så kan de sammenlignes ved at angive to sideintervaller, 1-12 for det første interval og 1-3, 5- 13 for det andet. Dette får DiffPDF til at sammenligne siderne i følgende par (1, 1), (2, 2), (3, 3), (4, 5), (5, 6), og så videre indtil (12, 13).
Other Packages Related to diffpdf