Package: boinc-manager (6.10.58+dfsg-3)
Links for boinc-manager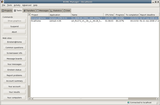 Debian Resources:
Download Source Package boinc:
Maintainers:
External Resources:
Similar packages:
Grafisk brugerflade til at kontrollere og overvåge BOINC-kerneklienten
The Berkeley Open Infrastructure for Network Computing (BOINC) er en programplatform for distribueret beregning der bruger frivillige computerressourcer.
Denne pakke indeholder BOINC-håndteringen, en grafisk overvågnings- og kontrolredskab for BOINC-kerneklienten. Den giver et detaljeret overblik over tilstanden for klienten, den overvåger. For eksempel viser den tilsluttede projekter, kørende opgaver eller filoverførsler mellem klient og projektservere. Den viser også statistik om tildelt kredit og diskforbrug for klienten og projekterne. BOINC-håndteringen har to kørselstilstande, den »simple visning« hvori den kun viser de vigtigste informationer og »avanceret visning« hvor alle informationer og alle kontrolelementer er tilgængelige.
For aktiv deltagelse i ethvert BOINC-projekt er den anbefalede pakke boinc- client, ikke boinc-manager, krævet for alle maskinbidrag.
Other Packages Related to boinc-manager
rec:

boinc-client

Basisklient for BOINC-distribueret beregningsinfrastruktur
sug:

libgl1-mesa-glx

A free implementation of the OpenGL API -- GLX runtime

sug:

libxt6

X11-værktøjssættets indbyggede bibliotek
Download boinc-manager
Download for all available architectures

| Architecture | Package Size | Installed Size | Files |
| --- | --- | --- | --- |
| amd64 | 1,933.5 kB | 5,604.0 kB | [list of files] |
| armel | 1,878.3 kB | 5,272.0 kB | [list of files] |
| i386 | 1,932.2 kB | 5,508.0 kB | [list of files] |
| ia64 | 2,174.5 kB | 7,536.0 kB | [list of files] |
| kfreebsd-amd64 | 1,933.5 kB | 5,298.0 kB | [list of files] |
| kfreebsd-i386 | 1,933.5 kB | 5,202.0 kB | [list of files] |
| mips | 1,947.0 kB | 6,204.0 kB | [list of files] |
| mipsel | 1,934.5 kB | 6,204.0 kB | [list of files] |
| powerpc | 1,963.4 kB | 5,552.0 kB | [list of files] |
| s390 | 1,893.4 kB | 5,388.0 kB | [list of files] |
| sparc | 1,928.3 kB | 5,452.0 kB | [list of files] |