Пакет: smc (1.9+git20120222-1 и други)
Връзки за smc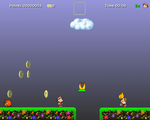 Ресурси за Debian:
Изтегляне на пакет-източник smc.
Отговорник:
Външни препратки:
Подобни пакети:
Jump and Run game like Super Mario World
Secret Maryo Chronicles is an Open Source two-dimensional platform game with a style designed similar to classic sidescroller games.
It utilizes the platform independent library SDL and since Version 0.98 with the OpenGLi accelerated Graphics Renderer developed in C++.
Други пакети, свързани с smc
sug:

smc-music (= 1.9+git20120222-1)

music files for Secret Maryo Chronicles
Изтегляне на smc
Изтегляне за всички налични архитектури

| Архитектура | Версия | Големина на пакета | Големина след инсталиране | Файлове |
| --- | --- | --- | --- | --- |
| kfreebsd-i386 | 1.9+git20120222-1+b1 | 768,0 кБ | 1 917,0 кБ | [списък на файловете] |