Пакет: dolphin (4:4.8.4-2)
Връзки за dolphin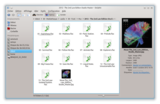 Ресурси за Debian:
Изтегляне на пакет-източник kde-baseapps.
Отговорници:
Външни препратки:
Подобни пакети:
file manager
Dolphin is the default file manager in the KDE Plasma Workspaces, intended to be both powerful and easy to use.
Features include:

  Customisable sidebars
  "Breadcrumb" navigation
  View properties remembered for each folder
  Split views
  Network transparency
  Undo/redo functionality
  Ratings, comments, and tags

This package is part of the KDE base applications module.
Други пакети, свързани с dolphin
Изтегляне на dolphin
Изтегляне за всички налични архитектури

| Архитектура | Големина на пакета | Големина след инсталиране | Файлове |
| --- | --- | --- | --- |
| kfreebsd-i386 | 1 291,2 кБ | 2 879,0 кБ | [списък на файловете] |