Пакет: mypaint (1.0.0-1)
Връзки за mypaint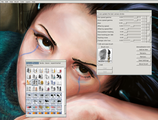 Ресурси за Debian:
Изтегляне на пакет-източник mypaint.
Отговорник:
Външни препратки:
Подобни пакети:
Paint program to be used with Wacom tablets
This is a pressure sensitive Wacom tablet paint program. It comes with a large brush collection including charcoal and ink to emulate real media, but the highly configurable brush engine allows you to experiment with your own brushes and with not-quite-natural painting.
Други пакети, свързани с mypaint
Изтегляне на mypaint
Изтегляне за всички налични архитектури

| Архитектура | Големина на пакета | Големина след инсталиране | Файлове |
| --- | --- | --- | --- |
| armhf | 628,1 кБ | 2 446,0 кБ | [списък на файловете] |