Пакет: emesene (2.12.5+dfsg-1)
Връзки за emesene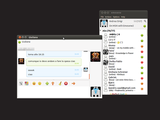 Ресурси за Debian:
Изтегляне на пакет-източник emesene.
Отговорници:
Външни препратки:
Подобни пакети:
instant messaging client
emesene tries to be a simple but feature complete program that allows one to chat using MSN and Jabber based networks.
From it's roots emesene 2 provides a UI that is easy to use by users coming from Windows Live Messenger but doing special focus on consistency and simplicity.
Други пакети, свързани с emesene
Изтегляне на emesene
Изтегляне за всички налични архитектури

| Архитектура | Големина на пакета | Големина след инсталиране | Файлове |
| --- | --- | --- | --- |
| all | 2 419,7 кБ | 8 371,0 кБ | [списък на файловете] |